Jeugd percussiegroep
Make Some Noise For The Drum!
Make Some Noise For The Drum!
In de literaire overlevering en in vele legendes is de trommel' de moeder van alle instrumenten', de oorsprong van de muziek. Met name trommels en ritme hebben altijd een bevrijdende en verbindende werking uitgeoefend in het creëren van een saamhorigheidsgevoel tussen mensen. De vier jonge 4Beat percussionisten zullen in een energieke voorstelling het jeugdige publiek kennis laten maken met trommels en ritmes uit de hele wereld. Spetterende drums en percussie uit Afrika, Azie en Latijns Amerika worden gecombineerd met de urban scratch sounds van de DJ, met jongleren op ritme, met body percussie, met mystieke oriëntaalse percussie, met zang en dans. Een opzwepende show waarbij het moeilijk zal worden in de stoelen te blijven zitten.
Gianna Tam (Surinam) - drums, percussion vocals and dance
Julio Pimentel (Brazil) - Latin percussion, juggling, vocals
Alper Kekec (Turkey) - African and Oriental percussion
DJ Broky B (Netherlands) - scratch DJ loops, video control
Gianna Tam (Suriname) is de dochter van slagwerker Lucas van Merwijk. Zij heeft de afgelopen 10 jaar als bandlid van Drums United, Drumix! en Van Merwijks Music Machine gespeeld in Nederland en het buitenland. Wellicht kennen jullie haar van haar optreden in The Voice of Holland.
Julio Pimentel (Brazilië) begon op acht jarige leeftijd met percussie en jongleren. In het combineren van deze twee vaardigheden is hij uniek. Hij won bij het Rotterdams Straatfestival de Zilveren Kiezel voor aanstormend talent en hetzelfde jaar behaalde hij de eerste plaats tijdens de Kunstbende in Rotterdam. In 2011 was hij te zien in Holland's got Talent. Daar wist hij de halve finale te bereiken.
Dj Broky B (Nederland) begon in 1990 met mixen en scratchen. Hij werkte met vele bands waaronder Osdorp Posse. Hij werkte met vele bands waaronder Osdorp Posse. De jonge theaterbezoekers zullen Broky B herkennen als de DJ van de ISH voorstellingen.
---
featured video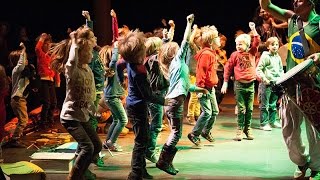 4Beat | Percussion for Kids