Jazzprofiles.com: 'Lucas van Merwijk is one of the great drummers of our time.
He lays down so much good stuff that even the eyes of a trained drummer can't catch it all...'
---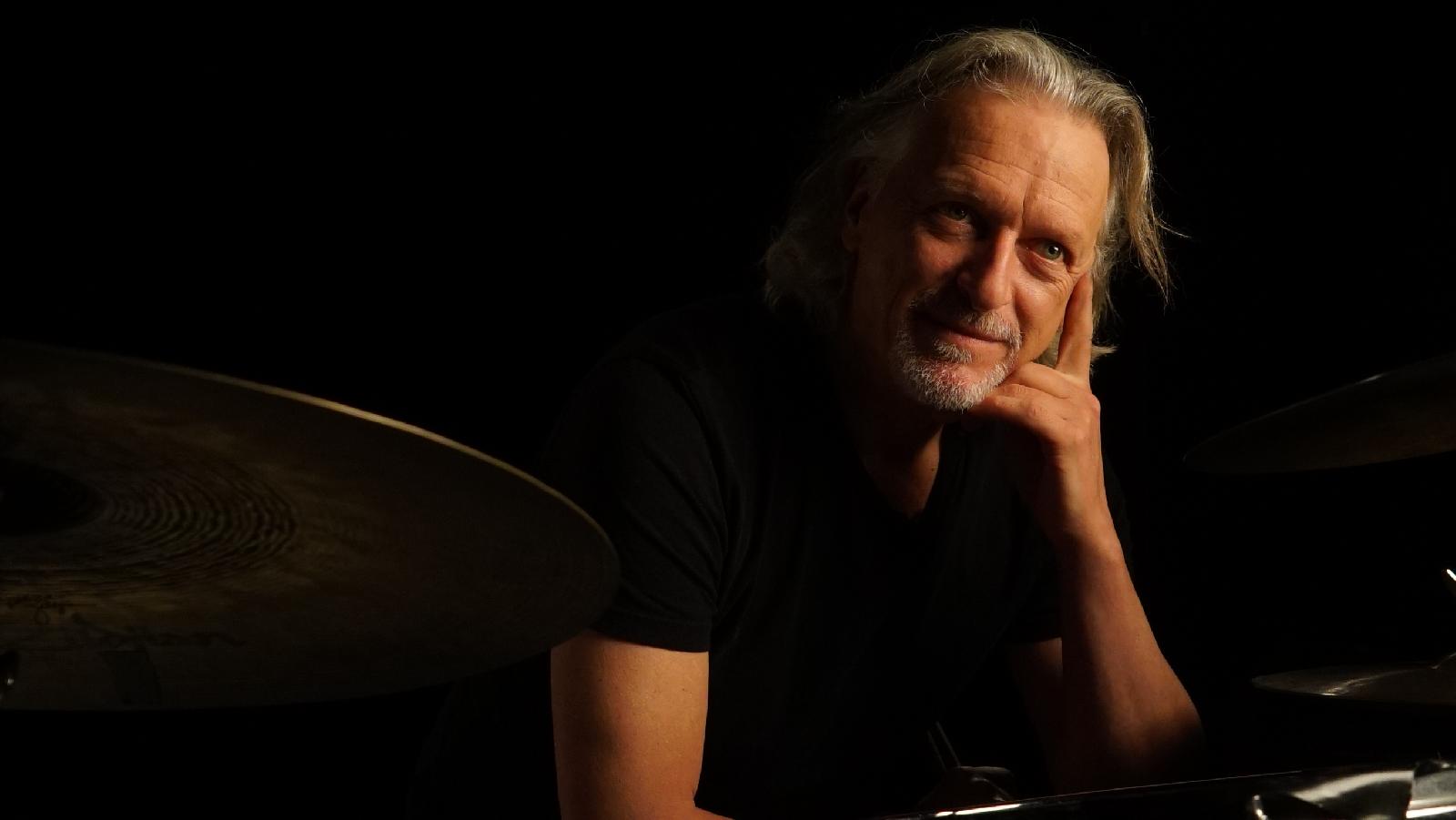 Lucas staat al meer dan 30 jaar aan de voorgrond van de Europese latin, jazz en percussie scene. Hij werd door de lezers van De Slagwerkkrant tussen 1993 en 2015 vele malen gekozen tot beste jazz alsmede beste world/fusion drummer.
Na een intensieve studie afro-cubaanse drums in Cuba bij drummer Oscarito Valdes (Irakere, Afro Cuba), werd Lucas actief als drummer en percussionist bij tal van groepen en artiesten in Nederland en Europa. Sinds 1985 de drummer van de vooraanstaande Latin jazz groep van Europa, Nueva Manteca.
Van Merwijk is niet alleen drummer maar leidt ook everschillende ensembles waaronder The Soul of Spanish Harlem, The Cubop City Big Band, Van Merwijks Music Machine, met jaarslijks wisselende thema's, en de internationale wereldpercussie groep Drums United.
Naast dit alles is Lucas een veel gevraagd docent. Buiten zijn sinds 1985 vaste docentschap aan de World Music afdeling van het Codarts Instituut te Rotterdam en het Conservatorium van Amsterdam, wordt hij regelmatig gevraagd voor workshops en masterclasses en doceert hij als freelance leraar aan diverse drums en percussie instituten in Europa, Azië en Amerika.
In 2010 ontvangt Van Merwijk de Global Act Award van het Muziek Centrum Nederland voor zijn gehele werk op het gebied van World Music.
Van Merwijk heeft twee publicaties op zijn naam staan. WorldBeat; World rhythms for drum set (2013) en Advanced Coordination Studies (2017)

Professor drums at the Jazz Department of the Conservatory of Amsterdam, (CVA, The Netherlands), Professor Drums and Latin Percussion at the World Music Department of Codarts (The Netherlands) Teacher and clinician at 9Beats (Tianjin, Beijing China)

Founder/leader/conductor/arranger/musical director of international percussion group Drums United. Founder/leader/conductor/musical director of the Cubop City Big Band (CCBB, The Netherlands), Co-director of Tam Tam Productions (TTP Amsterdam, The Netherlands) Expert in latin drums; drummer/percussionist, composer/arranger. 

Lucas plays Zildjian cymbals | Pearl Drums | Remo Drumheads


---

1961 Born in De Bilt, The Netherlands

1970 starts playing drums

1980 till 1982 studies at the Sweelinck Conservatorium in Amsterdam

1980 starts working in the Salsa and Jazz scene in the Netherlands

1982 till 1986 Boulevard of Broken Dreams Orchestra

1984 till 1987 Henri Guedon, Paris

1985 till 1992 Maarten van Nordens Future Shock

1886 Studies in Habana, Cuba with Oscarito Valdez

1986 1989 teaching Latin Percussion at the Hilversums Conservatory

1986 Tour with Chris Hinze Combination

1987 till present Drums with Nueva Manteca 

1887 till present Drums at the drumfaculty at CODARTS Insititute

1987 till present Drums & Percussion at the Amsterdams Conservatory

1988 Azie tour with Future Shock

1989 playing with Nicky Marrero, Nueva Manteca

1989 till 1991 TV show Jansen & CO

1990 starts trio Sticks & Strings with Leonardo Amuedo

1991 till 1994 Denise Jannah 4tet 

1991 Hans Dulfer Band

1992 Cd URU Sticks and Strings

1992 Studies in Habana Cuba with Oscar Valdez by readers Slagwerkkrant Drummagazine

1994 Chosen best Jazz Drummer of 93/94 by readers Slagwerkkrant Drummagazine

1994 Chosen best Fusion Drummer of 93/94 by readers Slagwerkkrant Drummagazine

1994 Nueva Manteca Leeds International Music Festival

1994 Tour with Sticks and Strings

1994 Clinictour Germany with Martin Verdonk

1995 Nueva Manteca tour with Bobby Sanabria

1995 starts CUBOP CITY BIG BAND 

1995 Tour USA Nueva Manteca

1995 Nueva Manteca tour with Claudio Roditi

1995 Chosen best Jazz Drummer of 94/95 by readers Slagwerkkrant Drummagazine

1995 Chosen best Fusion Drummer of 94/95 by readers Slagwerkkrant Drummagazine

1995"Award for outstanding service to jazz education" in Los Angeles

1995 Nueva Manteca tour Danmark 

1995 Nueva Manteca tour Germany

1995 CD recording the Machito Project CUBOP CITY BIG BAND 

1996 Chosen best Fusion Drummer of 95/96 by readers Slagwerkkrant Drummagazine

1996 USA tour Nueva Manteca 

1996 Nueva Manteca on Trinidad & Tobago 

1996 Cubop City Big Band tour with Chocolate Armenteros

1996 North Sea Jazz Festival Cubop City

1996 Nueva Manteca Jazzfestival Kouvola Finland

1996 Cubop City Big Band tour with Chocolate Armenteros

1997 Cubop City Big Band recording Moré and More 

1997 Concerts Cubop City Big Band with Edy Martinez

1997 Nueva Manteca tour Danmark & Finland

1997 starts record label Tam Tam Records

1997 recording Sticks & Strings CD JAMFEVER

1997 Chosen best Jazz Drummer of 96/97 by readers Slagwerkkrant Drummagazine

1998 Tour Dutch Antilles with the Cubop City Big Band

1998 Nueva Manteca tour with Luis Conte

1998 Clinic Journees de la Percusion Paris

1998 Nueva Manteca at Salsa Festival Turku Finland

1999 Live in the Hague Cubop City Big Band on Tam Tam Records

1999 Tour Female Factory Moskou and Madrid

1999 Tour Bonaire, Sint Maarten, Curaçao & Aruba with the Cubop City Big Band

1999 North Sea Jazz Festival

1999 Chosen best Fusion Drummer of 98/99 by readers Slagwerkkrant Drummagazine

1999 Concerts Cubop City Big Band with percussionist Armando Peraza

1999 Concerts in Colombia with pianist Edy Martinez

2000 Concerts with spanish percussiongroup Nits de la Mediterania

2000 Nueva Manteca tour Israel

2000 Bomba Moderna festival Torres y Salsa France

2000 starts duo DRUMIX! with senegalese percussionist Aly N'Diaye Rose.

2000 Chosen Jazz Drummer of 99/00 by readers Slagwerkkrant Drummagazine

2000 starts percussiongroup DRUMS UNITED 

2000 starts Tam Tam Productions foundation

2000 CD Drumix! on TAM TAM Records

2000 Theatre tour She Got Game

2001 STICKS & STRINGS becomes 'Trio Amuedo, van Merwijk, Vierdag' 

2001 Teaching at Manhattan School Of Music Summercamp

2001 Theatre tour She Got Game

2001 Live cd Trio Amuedo, van Merwijk Vierdag, 'Live in Amsterdam on Tam Tam Records

2001 Cubop City Big Band concerts with trésplayer Nelson Gonzales

2001 Cubop City Big Band Torres y Salsa France

2001 Euro Radio Big Band Jazz Meeting for EBU 

2001 Concert for Nelson Mandela, Carré, Amsterdam

2001 Concerts with Percussion group Amsterdam

2002 Theatre tour Drums United program HIT

2002 Teaching at Manhattan School Of Music Summercamp

2002 Nueva Manteca tour with Ralph Irrizarry

2002 Theatre tour She Got Game

2002 Theatre tour Made in Holland

2002 Cubop City Big Band cd 'Arsenio' on Tam Tam Records

2003 Concerts with Slagwerkgroup Amsterdam

2003 tour Puerto Rico Heineken Jazz with Nueva Manteca

2003 Nueva Manteca tour "The Westside Story" with Jeroen van Merwijk

2003 Teaching at Manhattan School Of Music Summercamp

2003 Theatre tour She Got Game

2003 Theatre tour Made in Holland

2003 Cubop City Big Band Tour 'The Mambo Kings'

2004 Manhattan School Of Music Summercamp

2004 Nueva Manteca tour with Orestes Vilató

2004 Theatre tour She Got Game too 

2004 Theatre tour Drums United 'World of Rhythm'

2005 Nueva Manteca tour "My Fair Lady"

2005 Theatre tour Drums United 'World of Rhythm'

2005 Theatre tour Amuedo van Merwijk Vierdag trio

2005 Theatre tour Cubop City Big Band 'Tribute to Afro Cuba' 10 year anniversary!

2005 Theatre tour van Merwijk Corsen Vierdag trio

2005 Theatre tour Cubop City Big Band 'Latin Guitar Explosion'10 year anniversay!

2005 Theatre tour Amuedo van Merwijk Vierdag trio

2005 2006 Nueva Manteca 

2006 Theatre tour Cubop City Big Band 'Latin Vocal Explosion' 10 year anniversay!

2006 Theatre tour Drums United 'World of Rhythm' (reprise)

2006 DVD recording Drums United 'World of Rhythm' 

2006 Caribbean tour Cubop City Big Band to Bonaire & Curaçao

2006 Tour Colombia with Nueva Manteca

2006 Theatre tour Drums United 'Ritmo Inferno'

2006 Clinic Tromp Percussion Biennale 

2007 Theatre tour Cubop City Big Band 'Latin Diva's

2007 Van Merwijk's Music Machine with Konkie Halmeyer, Carlo de Wijs and Roberto Vizcaino

2007 Clinic tour in Germany for Pearl Drums

2007 Drums United tour to Bulgaria and Serbia

2007 Cubop City Big Band with Drums United Grachtenfestival Amsterdam

2007 Theatre tour Drums United 'Ritmo Inferno' (reprise)

2007 Chosen to 'Hall of Fame' by readers Slagwerkkrant Drummagazine

2007 Drumix! Theatre Tour 'The World of Drumix!

2007 Nueva Manteca Motown Mambo! concerts

2008 Van Merwijk's Music Machine with Theodosii Spassov, Martin Verdonk, Reno Steba, Stormvogel.

2008 Drums United tour to Cyprus and Germany

2008 Cubop City Big Band with Drums United Tilburg

2008 Dutch Theatre tour Drums United Slaat Door!

2008 SA Tour Cubop City Big Band Colombia, Surinam, Aruba, Curacao

2008 CD Cubop City Big Band 'Que Sensacion!'

2008 Cubop City Big Band Tribute to Tito Puente with special guest Andy Gonzales on Bass

2009 Van Merwijk's Music Machine 'Latin Soul & Boogaloo'

2009 Drums United tour to Mexico

2009 Drums United tour to Norway

2009 Drums United tour to Germany

2009 Drums United Theatre Tour 'Slaat door!'

2009 Drumix! Theatre Tour 'Amsterdam Dakar'

2009 dvd Music Machine & Theodosii Spassov

2009 dvd Music Machine & Konkie Halmeyer

2009 dvd Drums United Ritmo Inferno

2010 Van Merwijk's Music Machine & Manou Gallo

2010 Cubop City Big Band Otro Mundo 'Venezuela' met Roberto Quintero

2010 cd Drums United Heartbeat

2010 Drums United Canada concerts (London) Algoma)

2010 Van Merwijk's Music Machine & Manou Gallo (Cyprus)

2010 Lucas wins the Global Act Award 2010. Prestigeous Dutch World Music Award

2011 Nueva Manteca Tango con Clave Theatre tour

2011 Nueva Manteca Requiem Tour Israel

2011 Cubop City Big Band Otro Mundo 'Colombia' with Edmar Castañeda

2011 Drums United Germany

2011 Van Merwijk's Music Machine & Manou Gallo Canada tour

2011 Drums United Canada concerts (Montreal, Fredericton, Sherbrooke)

2011 Drums United European Heartbeat (Ireland) with Eamon Murray, Bohdran drum

2011 Nueva Manteca Chicano Rock Theatre Tour

2012 Cubop City Big Band Otro Mundo 'Uruguay' met Beatriz Aguiar, José Lopretti, José Perez

2012 Drums United European Heartbeat (Turkey) with Misirli Ahmet, Darbuka 

2012 Drums United Heartbeat tour Netherlands, Germany, Usa, Canada, Norway, Turkey, Luxembourg

2012 Tour Van Merwijk's Music Machine & Manou Gallo (reprise)

2012 Music Machine 'Cuban Golden Classics' Cyprus

2013 Marco Toro Ensamble Salsafestival Toros y Salsa Dax, France

2013 Drums United Heartbeat tour Netherlands, Thailand, Germany, Usa, Canada, Mexico

2013 Music Machine 'Cuban Golden Classics' (Sunfest) Canada

2013 Voted Best World/Fusion Drummer of '12/'13 by readers Slagwerkkrant Drummagazine

2013 Los Misticos Salsafestival Dax, France

2013 Los Misticos concerts with Jimmy Bosch, Franky Vasquez and Herman Olivera

2013 Lucas van Merwijk publication 'WorldBeat' drumbook

2013 Produceert jeugdpercussie groep 4Beat

2014 4Beat tour China Tour

2014 Drums United Colombia Tour

2014 Produceert female percussie groep Beat The Kitchen

2014 Drums United China tour & Nine Beats Clinics

2014 Lucas van Merwijk Los Angeles concerts tribute to Beny Moré

2014 4Beat tour China tour

2014 Drums United Album 'Rhythm Dreams'

2014 Drums United China & Thailand Tour.

2014 Koninkrijjksconcert Cubop City Big Band Koning Willem Alexander

2015 200 Year Kingdom concert Drums United

2015 Best Fusion/World Drummer 2015

2015 Music Machine China Tour

2015 Music Machine IndiaTour

2015 Drums United China Tour

2015 Music Machine Cabo Verde Tour

2015 Music Machine Cote Ivoire Tour

2016 China Clinic tour 9Beats

2016 Album Release Star Cubop City Big Band

2016 China Beijing 1st Percussion Festival Clinics and jury

2016 Drums United Tour Surinam

2016 Drums United Tour China

2016 9Beats Summercamp China


2017  The Soul of Spanish Harlem Dutch Theatre Tour

2017  Lucas van Merwijk  China Clinic Tour

2017 China Beijing 1st IPAS clinics and jury

2017  9Beats  Summercamp China

2017  Shanghai Conservatory China Guest Teacher


---

AS A LEADER

Cubop City Big Band 

Drums United 

Drumix! 

Van Merwijk's Music Machine

Van Merwijk's Music Machine Hammond & Steel

Van Merwijk's Music Machine Theodossi Spassov

Van Merwijk's Music Machine Latin Soul & Boogaloo

Van Merwijk's Music Machine Manou Gallo

Van Merwijk's Music Machine Cuban Golden Classics

The Soul of Spanish Harlem
---

LATIN/LATIN JAZZ

Nueva Manteca (since 1985)

Sticks and Strings 

Edy Martinez

Andy Gonzalez

Alex Acuna

Orestes Vilato 

Giovanni Hidalgo 

Roberto Vizcaino

Arturo Sandoval 

Luis Conte 

Dave Valentin

Nicky Marrero 

Timbazo

Batida 

Bobby Sanabria 

Armando Peraza 

Alfredo 'Chocolate' Armenteros 

Nelson Gonzales 

Nicky Marrero 

Michel Camilo 

Ralph Irizari

Leonardo Amuedo 

Paquito De Rivera

THEATRE

Ramses Shaffy

She Got Game 

Female Factory 

Leoni Jansen

Liesbeth List 

Laura Fygi

Karin Bloemen 

Paul de Leeuw 

Made in Holland 

West Side Story Nueva Manteca Jeroen van Merwijk

Boulevard of Broken Dreams

JAZZ

Chris Hinze 

Joe Pass 

Claudio Roditi 

Denise Jannah 

Future Shock 

Rick Margitza

Benjamin Herman

George Mraz

Future Shock

Georgy Fame 

Cyrus Chestnut

European Broadcast Union Big Band

Jazzorchestra of the Concertgebouw

POP/ROCK

Candy Dulfer 

Hans Dulfer 

Rory Block 

Tavares 

the Three Degrees 

the Trammps 

Boudewijn de Groot 

Donovan

Hennie Vrienten 

Tuck & Patty 

Lois Lane 

Bob Fosko

the New Cool Collective 

Acda & de Munnick 

Trijntje Oosterhuis 

Jan Akkerman 

WORLD

Glenn Velez 

Henri Guedon 

Lotz Of Music 

Rosenberg Trio

Aly N'Diaye Rose 

N'Gueng Le 

Theodosii Spassov

Hossam Ramzy

Carmen Linares

Carel Kraayenhof

CLASSICAL/CONTEMPORARY CLASSICAL

Jessey Norman 

Het Metropole Orchestra

Slagwerkgroep Amsterdam 

Nits de La Mediterania 

Circle Ensemble

DANCE

Andrés MarÌn

Nuria Manglano

LuÌs de LuÌs

Tap Dogs
---
featured video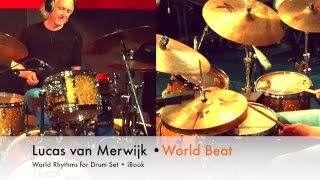 World Beat on iBook Store